JUDE is a contemporary clothing and accessories label created by designer Jude Ng. With a background in the Fine Arts, Jude offers a different point of view in fashion. His past life as a painter influences his work through the unique and off beat use of shape, colour, texture, and the unexpected combination of materials.Specialising in clothing and accessories which are designed and made ethically in Melbourne, JUDE creates original and unique pieces in unconventional shapes and quirky proportions.

JUDE caters to fashion forward individuals of all ages, shapes and sizes. Many designs are also gender neutral. With a focus on quality and beautiful design, we aim to give our customer ease, comfort and versatility through their wardrobe, while also making a strong style statement. We are involved in the entire design process from start to finish - dreaming up designs, sketching new ideas, patternmaking, fitting and final construction are all undertaken by us in our studio and shop in Fitzroy, Melbourne.We believe strongly in supporting the local garment industry, therefore our clothing is made ethically by our talented Melbourne based makers in limited editions. We also produce special edition clothing runs and one of a kind accessories directly in our studio.

We favour the use of quality natural fibres, rare vintage materials and traditional techniques all reworked in a modern way to create contemporary pieces with soul. Our pieces often feature hand embellishment such as hand dyeing, painting, beading, embroidery and applique, telling the wearer a story of a product which is made with love.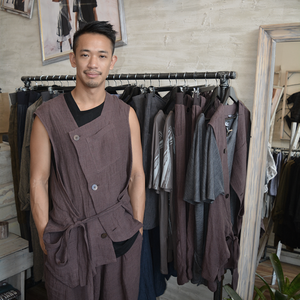 Jude, Designer
Originally from Singapore, Jude Ng grew up in a creative household where his father, antique dealer and his mother, fashion fanatic, influenced him to hone his craft and develop an appreciation for traditional artisan skill & design aesthetic. Moving to Melbourne, Jude completed a Bachelor of Fine Arts at the VCA, majoring in painting, before completing his training in fashion at RMIT. Jude's creative childhood has become the foundation of his label, where he utilises early influences to create a product under his unique vision, combining his fine art skill with his love of experimental tailoring to produce a compelling fashion story.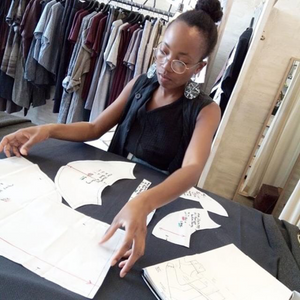 Tamara, Senior Team | Stylist | Marketing | Production
Originally hailing from New York City, Tamara has been a loyal member of the JUDE family for almost 4 years now, and has helped the label to grow and thrive over the years. Tamara has her finger on the pulse of fashion, and has created compelling concepts for collection campaigns, and exciting marketing ideas for events, always thinking outside of the box. Tamara is right hand woman to designer Jude Ng, and an all round star! She also works in our store, creating a personalised styling experience for customers, and also assisting with in house sampling and production.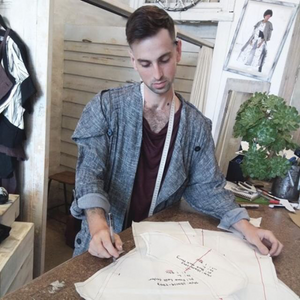 Evan, Patternmaker | Sales
Hailing from Boston where he studied fashion design at MassArt, and with a background working in bridal couture, Evan joined our team while on his Australian adventure! Working with us for 3 seasons now, Evan uses his talented eye for design and proportion to interpret our design sketches onto paper patterns, which are then cut and sewn into our first samples in house. Pattern making truly is an art form which requires a natural sense of proportion, design and problem solving. Evan has been honing his craft working with us, while also offering a fresh eye to our work.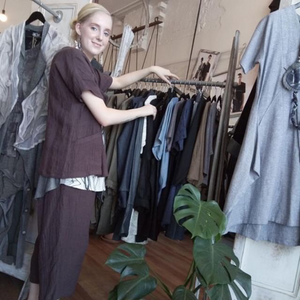 Claudia, Visual Merchandiser | Sales
Studying fashion design at RMIT, Claudia has been interning with our label for close to a year now, and has been an absolute joy to work with. We are enjoying seeing her blossom as a designer, and love the contemporary yet feminine touch she brings to our work. We were thrilled to discover her natural artistic ability for visual merchandising, and she has since created exciting window and in store display concepts which brings a fresh perspective to our work.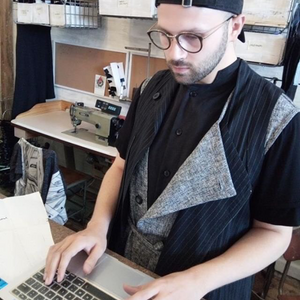 Lawrence, Marketing | Digital Design
Lawrence is our very sharply dressed website and graphics guru. Graduating from an Honours in Design, his talent and hard work has since seen him won a scholarship to study at the prestigious Bunka Design School in Tokyo. Lawrence had previously interned with us while studying fashion, and his fresh and unique take on the digital world of fashion combined with his meticulous eye for detail is remarkable. He collaborates with us on special online projects while pursuing the early stages of his fashion career, which we are sure will be very bright indeed!